Dear international delegates, welcome to Ireland !
IQUA wishes you all a very successful and enjoyable congress. We would like to point you to some information from our website that may be of interest to you while you're visiting.
Quaternary sites of Ireland
An A3 map of the Quaternary sites in Ireland is included in your registration pack. This map was designed with the general public and visiting experts in mind to help highlight the most significant sites on the Island of Ireland that were discovered, visited and analysed over the course of the development of Quaternary science research in the region. 60 sites were selected classified as archaeological, geomorphological, megafaunal, palaeoenvironmental and stratigraphical sites with the 3 UNESCO World Heritage Sites also indicated. They are displayed over the topography (EU-DTM at 25m resolution) and bathymetry (EMODnet bathymetry DTM at around 115m resolution) with added indications of landscape features like lakes, main rivers, bogs, ice-moulded sediments (drumlins, ribbed moraines, …), hummocky esker and moraines, U-shaped valley and larger urban areas. Although some of the historical sites are not accessible anymore, most are still visible and were visited for instance during IQUA field meetings over the years or will be during some of the congress excursions. They are named and described succinctly at the back of the map. A digital interactive version with further description, pictures and references is in the works to be included on this website in the future.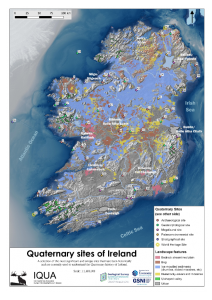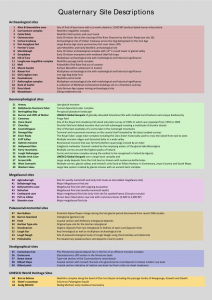 IQUA fieldguide publications
The Irish Quaternary Association has been organising annual field meetings since the late 1970s. These 2-3 days event focus on a specific region and allow for research discussion in situ while presenting the current research to a wider audience. They are always accompanied by the publication of a fieldguide of which printed copies can be purchased at the IQUA stand in the Convention Centre or on our website (here) where you'll also find digital copies of such for sale.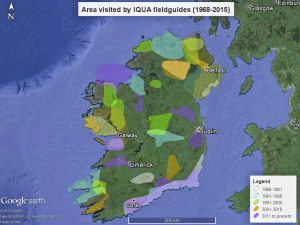 IQUA newsletter n°63
The latest edition of our newsletter is just out and contains a range of information on the active Irish Quaternary scientific community with a "who's who" that we hope will simplify networking and creating potential future collaborations. There are a limited number of printed copies available at the IQUA stand in the Convention centre with the digital version available for download here.
Giants of the Irish Quaternary booklet and exhibition
A recent publications on the historical spearheading figures of Irish Quaternary science is available for purchase at the IQUA stand in the Convention centre or online here. An exhibition of 10 pull-up banners dotted around the congress venue has also been put in place. They focus on some of the selected "giants", their life and their work in Ireland. Ask the IQUA stand for their location.